We're officially in the middle of tomato season and I'm obsessed.
I love the abundance of fresh tomatoes at Canadian farmers markets in late August and into early September. Visions of slow Sundays spent in the kitchen cooking up and canning fresh tomato sauce with friends and family abound. And because they are often considered a vegetable, tomatoes are used in almost every cuisine around the globe.
But did you know they are also a nutritional powerhouse – a superfood?
Health Benefits of Tomatoes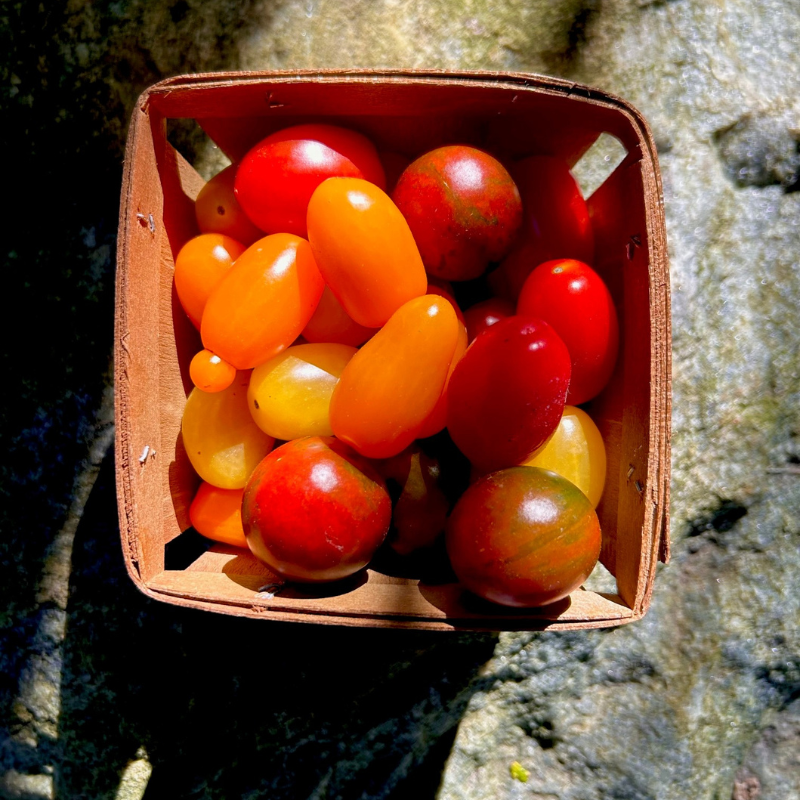 Tomatoes are low in calories and provide important nutrients like vitamin C and potassium.
One cup of chopped tomatoes provides about 27 per cent of the daily recommended value of vitamin C, which helps support immune function and collagen production, inflammation reduction, and helps protect against disease-causing free radical damage and aging.
One medium tomato contains around 292 milligrams of potassium which is an electrolyte that supports proper hydration by helping maintain intracellular fluid volume.
They're also rich in the antioxidant lycopene which is responsible for tomatoes' characteristic color. Lycopene is linked to several health benefits, such as a reduced risk of heart disease and certain cancers.
The key to maximizing lycopene's protective benefits is to eat tomatoes along with healthy fats, as carotenoids require fat to be properly absorbed by the body, research published in the March 2021 Antioxidants found.
Along with lycopene, tomatoes contain lutein and zeaxanthin, which have been found to help with eye health and prevention of age-related macular degeneration and cataracts.
So how can you take advantage of the abundance of tomatoes found in farmers markets around Canada in the next few weeks?
Here are a few recipes I've been making for years. They're simple, fresh, and super easy to make. I just made a huge batch of Rosé tomato sauce for my son who is a college student living on his own. He can easily defrost the sauce, boil up some pasta, whip up a quick green salad and presto! My student is eating fresh food.
Rosé Tomato Sauce Recipe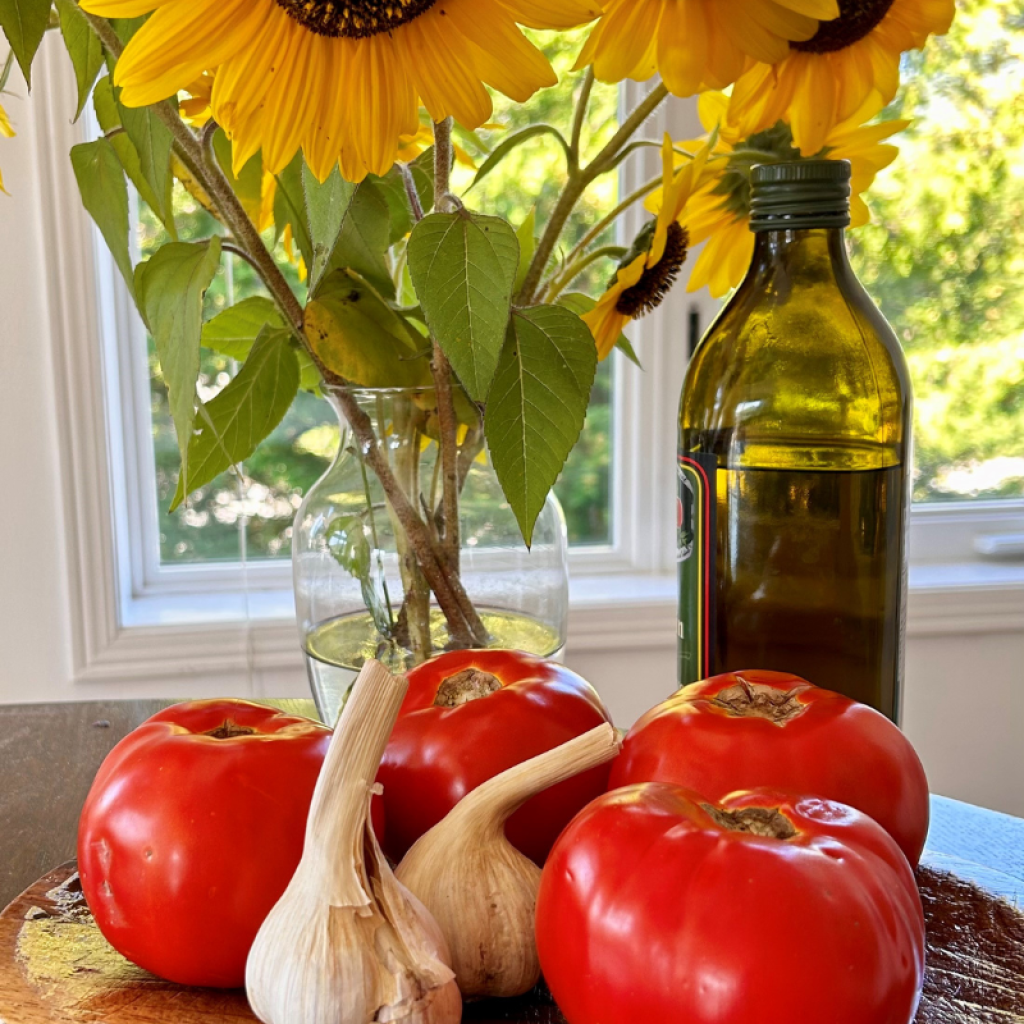 There is potentially nothing simpler than making a fresh rosé sauce. This recipe requires only a few ingredients and a few minutes of your time.
Ingredients:
3 cloves of local garlic, chopped
1/2 an onion, chopped
1 tbsp olive oil
1 basket of fresh tomatoes
1/2 cup of cream (optional)
Salt
Pepper
Fresh rosemary and thyme, bundled into a twine
Recipe:
Peel tomatoes by dipping them in boiling water for 10 to 30 seconds using a fork to pierce the stem end. Peel skin off tomatoes.
Because of their high acidity, prepare tomatoes in pans with non-reactive surfaces such as stainless steel or enamelware.
1. Add onion to pan and sauté for around 5 minutes, until tender. Add garlic, sauté for one minute.
2. Add all the tomatoes, salt and pepper and the bundled fresh rosemary and thyme. Using scissors or a knife, cut tomatoes into smaller chunks.
3. Simmer on low heat for a half hour, stirring and crushing the tomatoes every few minutes.
4. If you'd like that hit of richness that cream brings, add it at this point and sauté for another 5 to 10 minutes. I often prepare this recipe without cream and it's just as delicious.
5. When well incorporated, remove the rosemary and thyme bundle, take the sauce off the heat and blend thoroughly using an immersion blender or a stand blender.
Caprese Salad Recipe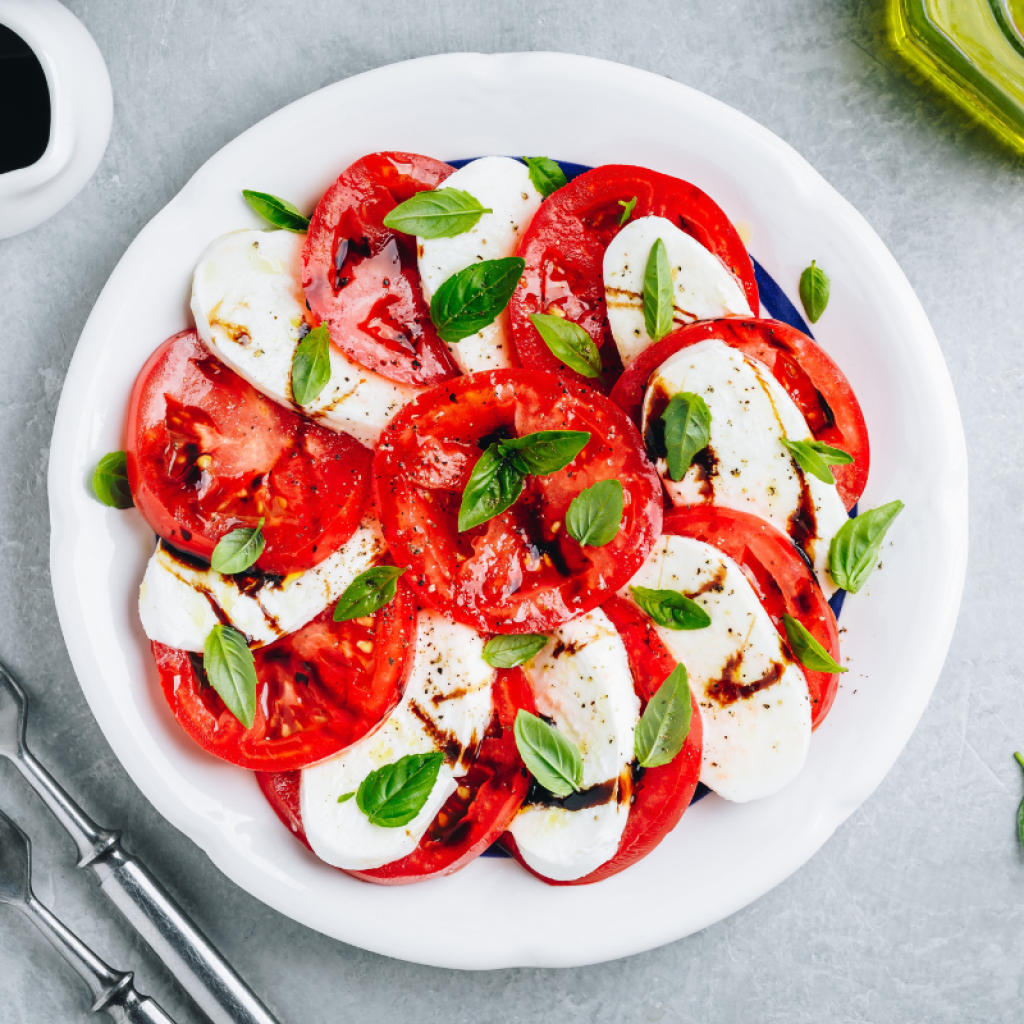 The ultimate late summer and early fall tomato dish, this recipe is an easy, classic Italian summer salad. Colourful, nutritious and delicious, this is a staple of any Mediterranean inspired meal.
Ingredients:
Tomatoes – Roma are classic, but any fresh, local tomato will fit the bill
Fresh mozzarella (must be fresh- mozzarella di bufala is also delicious, with a creamier, lighter flavour)
Fresh basil
Olive oil (go for cold pressed!)
Balsamic vinegar
Sea salt
Pepper
Recipe:
Cut tomatoes into generous 14 inch rounds. Slive up mozzarella into rounds.
Wash the basil, keeping the leaves whole.
Using one of your prettiest platters, arrange the tomatoes, placing the cheese on top of the tomatoes. Add the basil, drizzle with olive and a touch of balsamic. Top with a light pinch of sea salt and pepper and voila! Cut up some baguette slices and you have the perfect end of summer meal.
Let us know – what are your favourite fresh tomato recipes? Take pictures of your creations, tag us on Instagram and we may feature you in our next recipe roundup!