Interestingly, cord blood is not regular blood. Cord blood contains stem cells, which happen to be extremely versatile in their usages and their healing properties.
According to Canadian Blood Services, cord blood can be used to treat over 80 different diseases.
Cord blood is only available for harvesting right after birth – it's found in the umbilical cord and placenta. Given how rare it is coupled with its lifesaving properties, it's no wonder cord blood banking exists.
Cord blood banks collect and store cord blood for donation available to Canadians who fall ill. There are also private banks which store cord blood for personal and familial use only.
The stem cells found in cord blood can "form a variety of different types of cells. Blood stem cells (as found in umbilical cord blood) can become red blood cells, white blood cells, and clotting cells," as reported by The Society of Obstetricians and Gynecologists of Canada.
What can Cord Blood Treat?
Cord blood is mainly used in treatment for blood and immune system disorders or any disorder requiring a bone marrow transplant.
leukemia
myelomas
lymphomas
myeloproliferative syndrome
Hodgkin's disease
Aplastic anemia
Adrenoleukodystrophy (a genetic disorder affecting nerves)
Krabbe's disease (a rare disorder of the nervous system)
Sickle-cell anemia (a disorder of red blood cells)
Types of Cord Blood Banks
Public Banks
The Government of Canada website describes the process. "Public cord blood banks collect, process and store cord blood units with the intention for transplantation into patients who are not the donor. There are no fees associated with donating cord blood to a public cord blood bank."
The government itself does not collect cord blood, but offers a lot of information for parents considering donation or private banking.
Donating is easy, the process is laid out by Canadian Blood Services and after retrieval, you never have to worry about it again.
But not all blood qualifies. Only about 15-20 per cent of cord blood that is donated can be used because the cell count in the collection is often too low.
You'll be required to sign a second consent form after the retrieval. If you don't see the collection team a second time, that means the cord blood will be thrown away as medical waste – what normally happens to umbilical cords and placenta.
Private Cord Banks
Private banks function differently. The Government of Canada website states, "Privately owned cord blood banks charge a fee to process and store cord blood. Cord blood stored at private banks is not made available for public use through registries."
There are two different kinds of private cord blood banks: autologous and autologous/allogeneic.
Autologous storage means that only the child who donated the cord blood is allowed to use it. No one else, no exceptions.
Autologous/allogeneic storage means both the child who donated the cord blood and their family members (parents, siblings, etc.) are allowed to use it.
While there is the added benefit that you now have this life saving option available at your fingertips, it's an expensive undertaking not covered by provincial insurance.
It is possible to have partial coverage with private insurance companies, so reach out to confirm your out-of-pocket cost for this option.
"Parents should be aware of the low probability of using one's own cord blood for autologous transplantation, which studies have estimated are between 1 in 20,000 and 1 in 250,000," The Government of Canada site reports. "When a patient needs cord blood transplantation, cells from a healthy donor are preferred to their own cord blood if their cells carry the same genetic or congenital disorder that caused the disease."
A study published in Springer found that private cord blood banks often over promise the benefits of private banking.
The researchers looked into all seven Canadian private banks and found a common theme. "Websites did not typically [provide] the likelihood of use, and in cases where they did, they provided much higher odds than can be found on government websites."
They continue that messaging used by most private banks insists that parents are "investing" in their family's future and offers "peace of mind", although most private collections of children's cord blood aren't used.
The study concludes by stating "the promotion of cord blood banking as a measure of insurance taken by responsible parents looking to do the best for their newborn children will likely resonate on an emotional level for some, perhaps leading to decisions being made with inaccurate expectations."
The Health Insider compiled a list of prices for all Canadian private cord blood banks, including one located abroad which was included in the study above.
Additional fees and taxes may not be included in the prices listed below.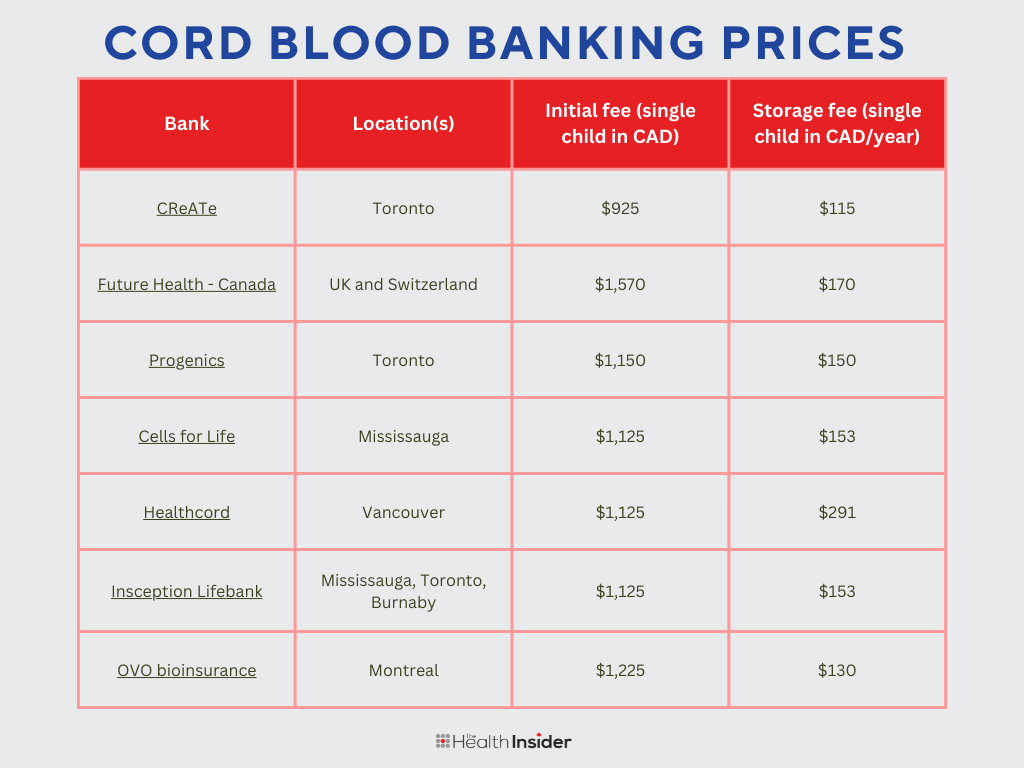 Biobanks
The Government of Canada website states, "Biobanks store biological samples, including stem cells and tissues rich in stem cells, for research purposes and the potential to be manufactured into a drug in the future."
These donations will not be used for treatment personally or publicly. Rather, they will only be used for research.
How to Donate
Canadian Blood Services collects donations across Canada, but are still relatively limited in scope for locations offering collection. Parents will need to give birth at one of the four locations listed below.
Step One: Eligibility
Be 18 years or older and in good general health.
Carrying a single pregnancy.
Have no history of cancer (by the baby's mother or father).
Free of infectious diseases (such as HIV/AIDS or hepatitis).
Free of inherited diseases or medical conditions that could be passed on to the patient.
Willing to donate to any patient in need.
Step Two: Register Online
Click here to visit Canadian Blood Services and registration.
Step Three: Donate at one of the Following Centres
The Ottawa Hospital (General campus) in Ottawa, Ontario
The William Osler Health System's Brampton Civic Hospital in Brampton, Ontario
The Alberta Health Services' Lois Hole Hospital for Women in Edmonton, Alberta
The BC Women's Hospital and Health Centre in Vancouver, British Columbia
Canadian Blood services also offers translation services. To access this, email cordblood@blood.ca six to eight weeks prior to your delivery date.
Cord blood is significantly harder to come by than regular blood and is so much more versatile. Whether you are thinking about donating cord blood to another life that may need it, or whether you are thinking about it as a form of insurance for a family member that may be in need years from now, the decision for cord blood collection must be made before giving birth. Don't forget that it's a very short window for blood cord collection.